Post by groenalund on May 26, 2021 15:21:17 GMT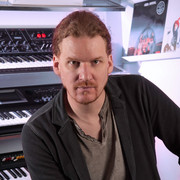 Hello from Germany,
My name is Martin and I am an Abba-Fan since 1979, since I heard Gimme, Gimme, Gimme for the first time as an 8 year old.
I heard a lot of music in different styles since that time and became a composer and musician, working in my own studio in Germany/Cologne for several customers.
My fandom had a mighty comeback in the early 2000s and since then I was thinking about combining my profession as a composer and producer with my adoration for ABBA.
As I attended the opening of Abba theMuseum in Stockholm in May 2013, I had some minutes with Frida, and couldn't hardly talk with her, because the inner 8 year old, was so shocked to see her as a real person. However, she was very nice to me and signed my Super-Trouper Notebook. I even saw Benny and Björn running around.
The opening ceremony and this fantastic museum gave me a big kick of inspiration. When I returned home, i immediately began to compose a bundle of new songs.

And this songs became my own project called Groenalund, like the beautiful quarter of Stockholm, where i got hit by this energy wave of inspiration. I had to build my studio first around this idea, because I wanted to achieve that classic wall of sound, you can hear on the records of the 70ies and early 80ies. So I needed special instruments and microphones and had to do some research, how to come close to this sound in the 21st century. One thing was for sure, I wanted to record with original instruments only, no modern sampling Libraries would be allowed and no drum computers, just real musicians and real instruments.
This way of producing is somehow out of fashion, because it needs a lot of time and Know How, to do it well.
I found some articles and interviews with Mike Tretow, looked closely at the studio photos of Abbas recording sessions and began to produce. The first results wer disappointing. Off course. But giving up was not an opportunity... 

And now, 8 years later, the studio is ready for a fat classic sound, 11 songs are written and nearly recorded completely, and I worked with a lot of musicians all over the world. 
One highlight was last year, when I returned to Stockholm again and recorded some guitar Tracks with Janne Schaffer and his golden Les Paul.
You can hear him playing this famous guitar in several Abba-Recordings, like Dancing Queen, Super Trouper etc. he attended 50 classic Abba-Tracks. I had 2 fantastic studio days with him and heard a lot of heartwarming stories about his time with Abba. "Eagle" was always one of my favourite tracks, and now I worked with the man, who printed his unique guitar sound as an essential ingredient to this track. Someone had to pinch me.

The other day I was in Benny Anderssons studio, to record with his mighty GX1, the synthesizer, you hear on the ABBA-Albums from Voulez-Vous on. And I recorded on his Grand Piano for our ballad "forgiven".
i was completely exhausted after this intensive days, but i had some nice recordings with me, that now are all integrated in the new Groenalund-Songs. 

I was shocked in 2018, when I heard about the new Abba-songs. I was sure, they would never produce new songs. Perhaps I never would have started my band, if i knew that earlier. 
But now I am in the unpleasant situation to have my Album ready in December this year, when Abba announced to bring out their new songs.
Lets hope, my band will look not to small beside the giant role model.

We even recorded one Cover-version of "Just like that", to show our deep respect to Abba. This version is as close to the original in our interpretation, as we can get. It will be released in late Summer I think.

Im happy, to share my Abba-stories here and would feel very happy, if some people here give our music a chance. Our music is very Abba-influenced, but never steals obviously and has some other references too. 
We try to be unique, we are not a cover band!


im looking forward to meeting all of you here in the forum,
Martin