Post by Liebezeit on Apr 9, 2017 19:18:59 GMT
So one of my friends did the Frida mega rate, but I kinda had an idea for the Agnetha counterpart because much of Aggy's songwriting is criminally underrated (and I do mean underrated).

Agnetha deserves a Nobel Prize for Literature.

But that's not the whole point of this thread: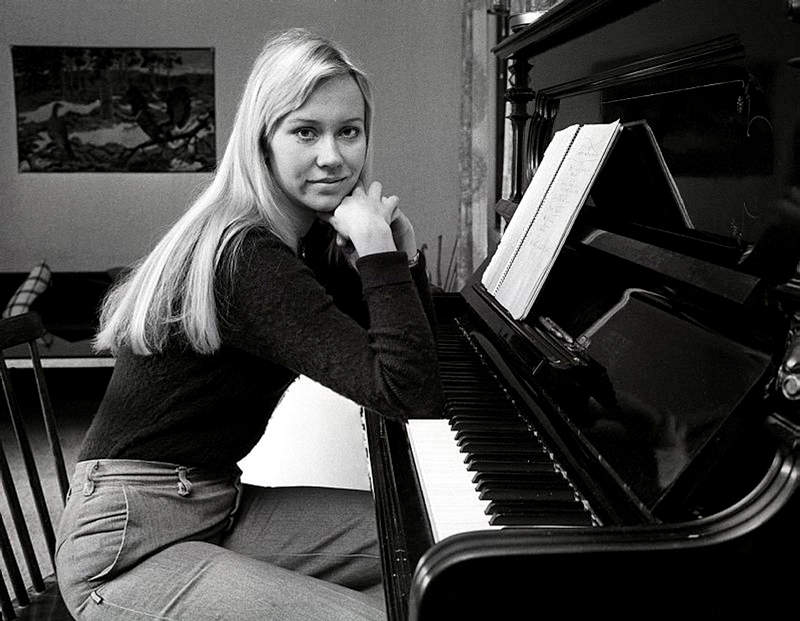 Here's how the Agnetha Mega Rate would go:


Rate each song from 1-10/20, or alternatively, grade the song from F- to A+ (in the vein of Robert Christgau, who's well known for using school grading styles when reviewing songs/albums) - whatever works for you.
You can choose any label sections to rate
Absolutely do not omit some songs of the album. Rate it or leave the rating spot in each songs blank if you have no clue about your rating for the songs. There is no deadline for this megarate.

Commentaries are encouraged, and you can put it adjacent to your rating.

I really want to know
how many diehard Agnetha fans will stand up
by doing this humongous list; so I made out a template for someone who's willing to waste a perfectly great amount of time.
The purpose of this mega rate is to
let the fans state their opinions on which Agnetha songs, from her whole discography, they liked or disliked in one post on this thread and/or evaluate their status of being a 'loyal fan' or all of that.
Alternatively, the Agnetha mega-rate (which is based on both the Frida and ABBA mega-rate) can be to tell which songs stands out the most (or in other words, which songs are more popular in this forum?), although I have no plans in doing so.
Warning: This might take 8-12 hours for a whole discography listening (but worth the time if you're in for a full day off/spare time/etc!), so buckle your seatbelts up to get this rollercoaster going!
EDIT 1: Thanks Alex [alexbury1] for the addition and recategorizing of the other songs!

EDIT 2: I'm no way a diehard Agnetha fan (I love Frida a lot – in fact, Frida is my favorite member, but I'll take Agnetha over some girl who goes on dressing like she's in a Renaissance convention, squeaky-singing at the ninth octave about magic, ghosts, fairies, and all that, because Agnetha can write, sing, and produce; a slick auteur lass with class, with some cheeky overtones.) but turns out I did after I listed my own ratings.


Template:
CUPOL YEARS AGNETHA FÄLTSKOG (1968)
Jag Var Så Kär -
Jag Har Förlorat Dej -
Utan Dej, Mitt Liv Går Vidare -
Allting Har Förändrat Sig -
Försonade -
Slutet Gott Allting Gott -
Tack Sverige -
En Sommar Med Dej -
Snövit Och De Sju Dvärgarna -
Min Farbror Jonathan -
Följ Med Mig -
Den Jag Väntat På -
AGNETHA FÄLTSKOG VOL. 2 (1969)
Fram För Svenska Sommaren -
Lek Med Dina Dockor -
Ge Dej Till Täls -
Skål Kära Vän -
Glöm Honom -
En Gång Fanns Bara Vi Två -
Hjärtats Kronprins -
Det Handlar Om Kärlek -
Som En Vind Komm Du Till Mej -
Señor Gonzales -
Zigenarvän -
Tag Min Hand Låt Oss Bli Vänner -

SOM JAG ÄR (1970)
Som Ett Eko -
När Jag Var Fem -
En Sång Och En Saga -
Tänk Va' Skönt -
Ta Det Bara Med Ro -
Om Tårar Vore Guld -
Hjärtats Saga -
Spela Vår Sång -
Så Här Börjar Kärlek -
Du Ska Minnas Mig -
Jag Skall Göra Allt -
Sov Gott Min Lilla Vän -
NÄR EN VACKER TANKE BLIR EN SÅNG (1971)
Många Gånger Än -
Jag Vill Att Du Skall Bli Lycklig -
Kungens Vaktparad -
Mitt Sommarland -
Nya Ord -
Jag Skall Inte Fälla Några Tårar -
Då Finns Du Hos Mig -
Han Lämnar Mig För Att Komma Till Dig -
Kanske Var Min Kind Lite Het -
Sången Föder Dig Tillbaka -
Tågen Kan Gå Igen -
Dröm Är Dröm, Och Saga Saga (Era Bello Il Mio Ragazzo) -

ELVA KVINNOR I ETT HUS (1975)
S.O.S -
En Egen Trädgård -
Tack För En Underbar, Vanlig Dag -
Gulleplutt -
Är Du Som Han? -
Och Han Väntar På Mej -
Doktorn -
Mina Ögon -
Dom Har Glömt -
Var Det Med Dej? -
Visa I Åttonde Månaden -

TELEVISION SONGS
Upp, upp och iväg -
Vårkänslor (ja, de' ä våren) -
Det kommer en vår -
Nu ska vi vara snälla -
En Stilla Flirt -
Nu ska vi opp, opp, opp -
METRONOME/CBS GERMAN SINGLES
Robinson Crusoe -
Sonny Boy -
Senor Gonzales (German)
Mein Schönster Tag -
Concerto D'Amore -
Wie Der Wind -
Wer Schreibt Heut' Noch Liebesbriefe -
Das Fest Der Pompadour -
Fragezeichen Mag Ich Nicht -
Wie Der Nächste Autobus -
Ein Kleiner Mann In Einer Flasche -
Ich Suchte Liebe Bei Dir -
Geh' Mit Gott -
Tausend Wunder -
Komm Doch Zu Mir -
Ich Denk' An Dich -
CUPOL NON-ALBUM SINGLES
Borsta Tandtrollen Bort -
Sjung Denna Sång (w/ Jörgen Edman)-
Någonting Händer Med Mej (w/ Jörgen Edman)-
Så Glad Som Dina Ögon -
Tio Mil Kvar Till Korpilombolo -
Vart Ska Min Kärlek Föra (I Don't Know How To Love Him) -
Nu Ska Du Bli Stilla (Everything's Alright) -
En Sång Om Sorg Och Glädje -
Vi Har Hunnit Fram Till Refrängen -
Golliwog -
Here For Your Love -
När Du Tar Mej I Din Famn -
När var det så skönt (Demo) -
Jag var så kär (Demo) -
POLAR YEARS
NU TÄNDAS TUSEN JULELJUS (with Linda Ulvæus) (1981)
Nej Se Det Snöar -
Bjällerklang -
Nu Tändas Tusen Juleljus -
Två Små Röda Luvor -
Nu Står Julen Vid Snöig Port -
Jag Såg Mamma Kyssa Tomten (I Saw Mommy Kissing Santa Claus) -
När Juldagsmorgon Glimmar -
Potpurri (medley)
Nu Har Vi Ljus Här I Vårt Hus -
Tre Små Pepparkaksgubbar -
Räven Raskar Över Isen -
Vi Äro Musikanter -
Hej Tomtegubbar -
Jungfru Jungfru Kär -
Nu Är Det Jul Igen -
Hej Mitt Vinterland -
Så Milt Lyser Stjärnan -
Mössens Julafton -
När Det Lider Mot Jul -
WRAP YOUR ARMS AROUND ME (1983)
The Heat Is On -
Can't Shake Loose -
Shame -
Stay -
Once Burned, Twice Shy -
Mr. Persuasion -
Wrap Your Arms Around Me -
To Love -
I Wish Tonight Could Last Forever -
Man -
Take Good Care Of Your Children -
Stand By My Side -

EYES OF A WOMAN (1984)
One Way Love -
Eyes Of A Woman -
Just One Heart -
I Won't Let You Go -
The Angels Cry -
Click Track -
We Should Be Together -
I Won't Be Leaving You -
Save Me (Why Don't Ya) -
I Keep Turning Off Lights -
We Move As One -
POLAR/SONET NON-ALBUM SINGLES
Never Again (w/ Tomas Ledin) -
Ya Nunca Más (w/ Tomas Ledin) -
It's So Nice to Be Rich (stereo) -
P&B -
The Way You Are (w/ Ola Håkansson) -
Fly Like an Eagle (w/ Ola Håkansson) -
The Queen Of Hearts (När Du Tar Mej I Din Famn) -
The Heat Is On (Extended) -
Can't Shake Loose (AOR) -
It's So Nice to Be Rich (Mono alt.) -
I Won't Let You Go (Extended) -
You're There -
Turn The World Around -
The Way You Are (Extended) -
The Way You Are (Instrumental) -
WARNER YEARS
I STAND ALONE (1987)
The Last Time -
Little White Secrets -
I Wasn't The One (Who Said Goodbye) -
Love In A World Gone Mad -
Maybe It Was Magic -
Let It Shine -
We Got A Way -
I Stand Alone -
Are You Gonna Throw It All Away -
If You Need Somebody Tonight -
KOM FÖLJ MED I VÅR KARUSELL (with Christian Ulvæus) (1987)
Karusellvisan -
Våra Valpar -
Mitt Namn Är Blom -
Vattenvisan -
Maskeradballen -
Pelle Jöns -
Tre Vita Råttor -
Önskevisa -
På Söndag -
Smurferifabriken -
Min Pony -
Nicko Ticko Tin -
Jag Vill Va' Som Du -
Jag Är Kung -
Alla Färger -
Liten Och Trött -
MY COLOURING BOOK (2004)
My Colouring Book -
When You Walk In The Room -
If I Thought You'd Change Your Mind -
Sealed With A Kiss -
Love Me With All Your Heart -
Fly Me To The Moon -
Past, Present And Future -
A Fool Am I -
I Can't Reach Your Heart -
Sometimes When I'm Dreaming -
The End Of The World -
Remember Me -
What Now My Love -
WARNER NON-ALBUM SINGLES
The Last Time (Extended Remix) -
I Wasn't the One (Extended Remix) -
Let It Shine (Extended Remix) -
Let It Shine (UK Bright Mix) -
La Última Vez -
Yo No Fui (Quien Dijo Adios) -
VERVE YEARS [acccording to the USA distribution]
A (2013)
The One Who Loves You Now -
When You Really Loved Someone -
Perfume In The Breeze -
I Was A Flower -
I Should've Followed You Home -
Past Forever -
Dance Your Pain Away -
Bubble -
Back On Your Radio -
I Keep Them On The Floor Beside My Bed -
A REMIXES
When You Really Love Someone (Alias Club) -
I Should've Followed You Home (7th Heaven) -
Dance Your Pain Away (Cahill) -
Dance Your Pain Away (Patrolla) -
Dance Your Pain Away (7th Heaven) -
Dance Your Pain Away (Smash Mode) -
Any more songs I'm missing? Feedbacks welcome, commentaries are welcome if necessary!